International Conference on Numerical and Mathematical Modeling of Flow and Transport in Porous Media
29 Sep - 3 Oct, 2014
Dubrovnik, Croatia
---
Objectives
The aim of the conference is to bring together researchers, scientists, engineers, and students to exchange and share their experiences, new ideas, and research results about modeling, analysis and simulation of flow and transport in porous media and application to problems including subsurface hydrology, petroleum exploration, contaminant remediation, carbon sequestration and nuclear waste storage.
Selected papers from NM2PorousMedia will be published, after a refereeing process, as a Special issue of journal Applicable Analysis.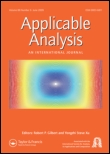 Previous Conference: Scaling Up for Modeling Transport and Flow in Porous Media, Dubrovnik, Croatia.
Co-sponsored by
INTERPORE, International Society for Porous Media